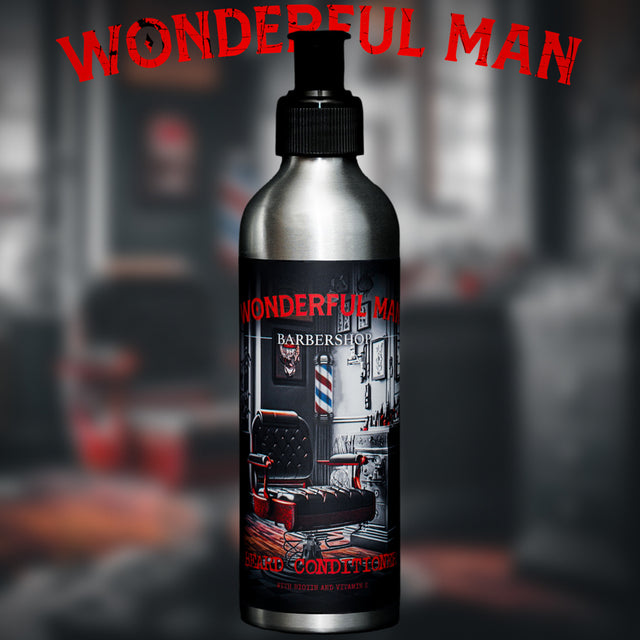 THE BEARDED GRENADE
Scent type: Fresh | Clean | Barbershop
As you walk past the red, white, and blue barber's pole and through the front door, your nose is greeted with an amalgam of scents and smells that can only be found in a classic barbershop.

As you navigate your way to the worn leather barber's chair your nose picks out the fresh scent of talc and aftershave gently mingling with the lingering smell of manly colognes and fine tobacco.

Our Wonderful Man beard conditioner is formulated to evoke that old school barbershop scent and features an intoxicating blend of eucalyptus, bay rum, tobacco, aged leather, and subtle undertones of fresh brewed coffee.

It's our unique take on the classic barbershop scent and it will absolutely have your beard smelling as wonderful as it looks.
6.5 oz
Wonderful Man scent
Plant based ingredients
Aluminum bottle with pump dispenser 
Free shipping to the U.S.
How to use:
Apply to wet beard. Gently massage through beard focusing on roots and ends. Leave in beard for 1-2 minutes. Rinse. Repeat tomorrow. 
Ingredients:
Water, cetostearyl alcohol, betaine, coco-glucoside, shea butter, olive oil, sunflower seed oil, coconut oil, phenoxyethanol, jojoba seed oil, aloe vera leaf juice powder, xanthan gum, citric acid, lactic acid, vitamin E, benzoic acid, dehydroacetic acid, biotin (vitamin B7), essential oils, fragrance
Benefits:
Moisturizes, hydrates, and softens beard hair
Replenishes the beard with vital nutrients and hydration
Improves beard hair strength and elasticity  
Helps prevent beard breakage and split ends
Biotin & Vit. E help promote thicker, stronger growth