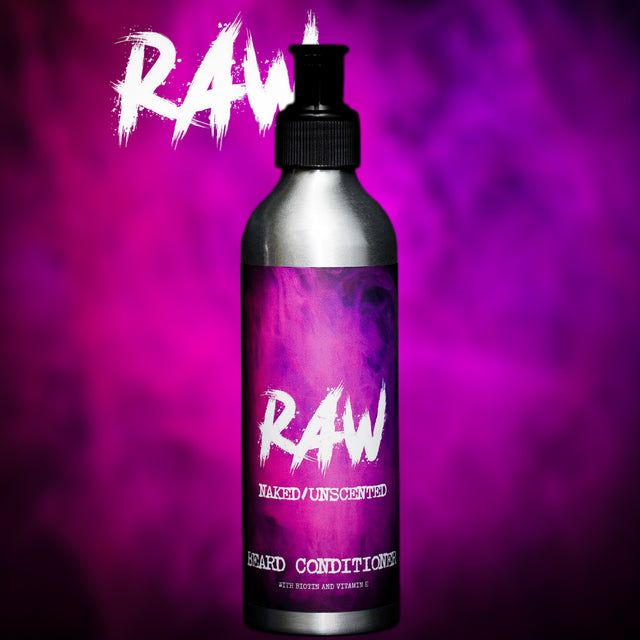 THE BEARDED GRENADE
Scent type: Unscented
We get it, sometimes you just want to keep things simple. That's why we formulate our RAW beard conditioner without adding any scents or fragrances. Basic beard maintenance at its finest.
RAW is the perfect choice for gentlemen who want all the amazing benefits of our plant based beard conditioner, but prefer to forgo the scent.

Sensitive skin safe
Is there anything worse than applying beard products only to have them irritate and agitate your skin?
Our RAW unscented beard conditioner is perfect for gentlemen who suffer from sensitive skin thanks to its gentle, highly moisturizing, plant based ingredients.
Absent of essential oils, fragrances, and potential skin irritants, our RAW beard conditioner is the obvious choice for our bearded brothers with sensitive skin.
6.5 oz
RAW - Unscented
Plant based ingredients
Aluminum bottle with pump dispenser 
Free shipping to the U.S.
How to use:
Apply to wet beard. Gently massage through beard focusing on roots and ends. Leave in beard for 1-2 minutes. Rinse. Repeat tomorrow. 
Ingredients:
Water, cetostearyl alcohol, betaine, coco-glucoside, shea butter, olive oil, sunflower seed oil, coconut oil, phenoxyethanol, jojoba seed oil, aloe vera leaf juice powder, xanthan gum, citric acid, lactic acid, vitamin E, benzoic acid, dehydroacetic acid, biotin (vitamin B7)
Benefits:
Moisturizes, hydrates, and softens beard hair
Replenishes the beard with vital nutrients and hydration
Improves beard hair strength and elasticity  
Helps prevent beard breakage and split ends
Biotin & Vit. E help promote thicker, stronger growth