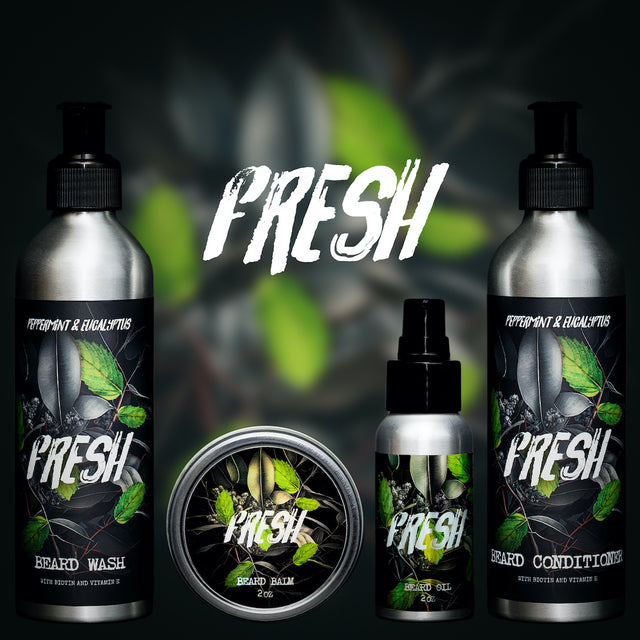 THE BEARDED GRENADE
*New name (Fresh) and label design - same peppermint and eucalyptus beard conditioner.
We had one goal in mind when it came to developing our beard conditioner:
Make the best beard conditioner ever that perfectly compliments our handcrafted beard wash. 
Actually that's two goals. Oh well. 
The truth is many bearded men overlook the awesome benefits of beard conditioner and often times neglect to use it. 
We wanted to change this mindset by crafting a beard conditioner that performs so well, every bearded man would want a taste. 
The result? A one of a kind, plant based beard conditioner that checks all the boxes when it comes to improving beard health, softness, and appearance.
Here's the results:
Moisturizes and hydrates the beard ✓
Smoothes and softens the beard ✓
Helps the beard appear thicker and fuller ✓
Helps strengthen the beard while fighting breakage and split ends ✓
Helps promote healthy beard growth ✓
Safe for everyday use ✓
On top of all that we scented our handcrafted beard conditioner with a refreshing blend of peppermint and eucalyptus essential oils that smell great and pairs perfectly with our awesome peppermint and eucalyptus beard wash.  
6.5 fl. oz
Cooling peppermint & eucalyptus
With Vitamin E and Biotin for thicker growth
Aluminum bottle with pump dispenser 
Free shipping to the U.S.
How to use:
Apply to wet beard. Gently massage through beard focusing on roots and ends. Leave in beard for 1-2 minutes. Rinse. Repeat tomorrow. 
Ingredients:
Water, cetostearyl alcohol, betaine, coco-glucoside, shea butter, olive oil, sunflower seed oil, coconut oil, phenoxyethanol, jojoba seed oil, aloe vera leaf juice powder, xanthan gum, citric acid, lactic acid, vitamin E, benzoic acid, dehydroacetic acid, biotin (vitamin B7), essential oils
Benefits:
Moisturizes, hydrates, and softens beard hair
Replenishes the beard with vital nutrients and hydration
Improves beard hair strength and elasticity  

Helps prevent beard breakage and split ends
Biotin and Vitamin E help promote thicker, stronger growth